Early afternoon, June 23, 2012. I was at REI shopping for a backpack that would be appropriate for an upcoming trip I planned to take with a friend/neighbor/co-worker to hike the 14ers in the Chicago Basin area in Southwestern Colorado. I stepped outside of the store and noticed a large plume of smoke rising from the foothills just beyond my neighborhood. It was hard to tell just how far away the smoke was from the actual city, but my instincts told me I should probably head back home and skip the other errands I had planned just in case something serious was going on.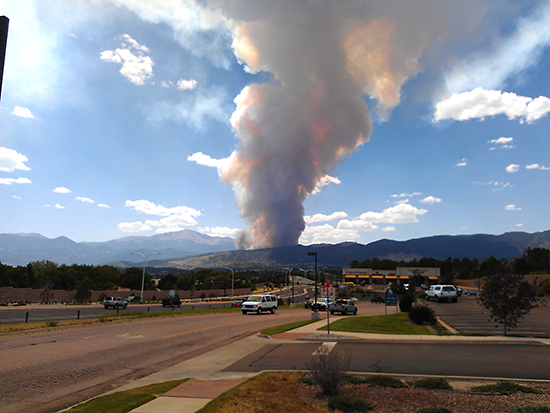 You never go through life expecting to be personally impacted by a federally declared disaster area. That's always something that happens in far-off places such as California after an earthquake or Louisiana after a hurricane. Extreme events just shouldn't happen on sleepy little Hot Springs Court.
When I got home from REI, I turned on the news, but didn't see any coverage yet of what was happening. I started getting a bit nervous. The neighbors were outside looking at the smoke plume and we were all wondering what was going on. About a half hour later, a police car came by and told us that our neighborhood was under a mandatory evacuation order and we should leave immediately.
I admit, I wasn't prepared for anything like this. I was a bit nervous and panicky since we had no information about how close the fire actually was. I gathered up my cat, Tubby, and hefted her into a large box. I grabbed the cat food and a large jug of water and a bowl. I took a few moments to think about what else I would need.
For some reason, important papers never crossed my mind. I threw a couple days' worth of clothes into my small carry-on suitcase, tossed my camera bag and tablet computer in the car, and then looked around to assess what else I should take. The only important memento I deemed worthy of grabbing was my Leadville 100 finisher's belt buckle and medal. I actually looked at everything else on the shelf and decided that was the only event I was not willing to repeat to get a replacement should something happen.
It had been hot in Colorado Springs in the prior days. This was the first year I actually regretted the fact that I didn't have an air conditioner in my house. We had three days in a row of 100+ degree heat and it hadn't rained for many days. Conditions were perfect for a fire to start and spread quickly.
I left my house, and because I had the cat with me, I talked with my first friend I could think of that also had a cat since I knew it probably wouldn't be a problem to have a cat at his house. He lives in Woodland Park, which is about a 30 minute drive West of Colorado Springs via US Highway 24 through Ute Pass (this detail is important later in the story!).
I camped out at his house, tablet in hand with all the major local news sources loaded in different browser tabs. I was cycling through them and constantly refreshing, hoping for some information, while channel 13 news was on the TV. I learned that the fire was actually a few miles and an entire canyon west of my neighborhood and felt a bit of relief that it wasn't going to be immediately incinerated as the smoke plume seemed to threaten earlier.
I hardly slept that night, and kept a watchful eye on all my news sources. This was the first time I actually found Twitter useful as the timely updates from many sources gave a good picture of what was going on (once I learned to recognize the rumors and incorrect information that it also spread). Highway 24 between Woodland Park and Colorado Springs ended up being completely closed that night since the fire was not far from the highway and the winds were unpredictable. I was stuck up there since the next shortest route is a two hour drive due to the topography of the mountains in the area.
The weekend passed slowly, and although I kept obsessing over the news, I didn't feel my house was in any imminent danger.
Monday morning arrived and I didn't make the two hour drive into work. I did what I could via e-mail, but mostly just watched the news all day. Eventually I decided that I should probably try to make it back to Colorado Springs so I could get back to work and be nearby if I had to deal with any emergency things. Rob and Kimberly DeLine offered to let me stay at their place, even with my cat. It was a relief to have a place to go that hadn't become isolated from the rest of the area (and they had air conditioning!).
Late Tuesday morning, I took the long drive north from Woodland Park to Sedalia and back down to Colorado Springs via I-25. And maybe just in time. My friend's house in Woodland Park had been placed on pre-evacuation status. I stopped at the office to grab my work computer, and didn't stay too long since the cat was out in the car with the AC running.
The wind was starting to pick up. My office is only a couple miles from my house, so I was only a few thousand feet away from the mandatory evacuation area. I went to the parking lot at the building next door and watched the helicopter flying frantically from the nearby Mesa Reservoir and dropping water at the nearby canyon. Queen's Canyon was the last major geographical barrier between the fire and my neighborhood. I was a bit concerned when I saw the helicopter heading right over there. So I watched the hillside for a few minutes before I saw flames crest over the ridge just a mile away. I snapped a few quick photos and decided that would be a good time to hightail it out of there.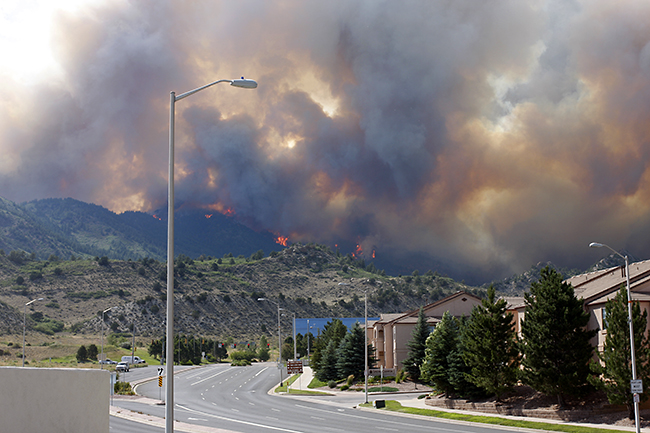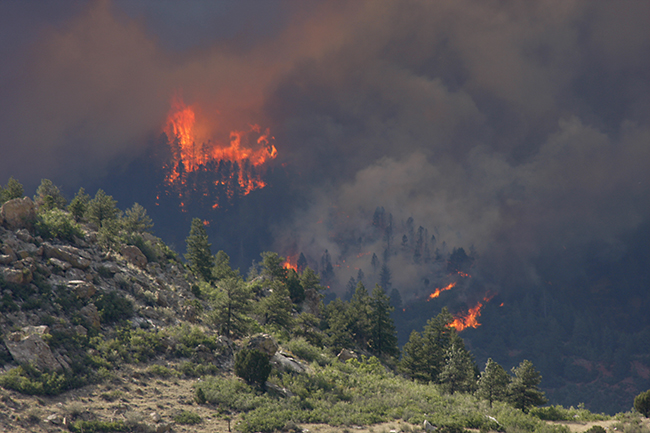 The wind seemed really strong at this point. What would normally be a quick afternoon thunderstorm turned into a fiery hellstorm. I gave Rob a call and said I was on the way to his house. Traffic was a nightmare getting to the interstate since all of the northwest side of town was evacuating at this point. I eventually made it to the highway, but traffic was crawling. All three lanes were barely moving. I made it a mile or so north and eventually we were all enshrouded in a dark, dense smoke cloud. I could only see a few hundred feet ahead of me. The thermometer in my car read 112 degrees. I saw a few cars broken down on the side of the highway, presumably the heat and slow traffic was too much for them. Ambulances and police cars were continually flying up the shoulder trying to get to the Woodmen Rd. exit of the highway. My cat was screaming the whole time and I was absolutely uncertain of what was going on. I figured at that point my neighborhood was probably gone, but even worse, the smoke made it seem like the entire western half of the city was burning down.
Eventually I made it to the Briargate exit of the highway; it was just a couple miles, but it took over an hour. I got to Rob and Kimberly's house and at least could feel some relief that I wasn't in any immediate personal danger.
Rob showed me to the guest room, and I unpacked the cat and her things. We went out to the backyard patio where we could see the foothills that were engulfed in flames. Every few minutes there'd be a burst of flames and a lot of black smoke. We knew that meant another house was burning.
I had a very sleepless night on the 26th. I was worried about how far into town the fire would burn, how badly damaged my house and neighborhood were, what was I going to do to recover... Tubby was not happy being moved around and was meowing all night long and trying to bury herself in the closet.
I got out of bed the next morning and was watching the news for some concrete information about the status of my neighborhood. The reports didn't sound good, but there was not any information about specific addresses or streets. Later that day, the Denver Post released aerial photos of the area that was burned. That was the point that I could see the outline of my foundation surrounded by ashes.
Well, time for the recovery to start at that point. I called my insurance agent and he was able to meet with me immediately to discuss what I should do. He opened the official claim, gave me a bunch of information, made sure I had a place to stay and that I was safe, and then got a catastrophe adjuster assigned to my case.
I had kept my emotional response pretty level up to that day. I was holding together fine until I went to King Soopers to pick up some snacks. What was it that set me off? A table full of bromeliads at the entrance of the store that looked just like the one I had growing in my dining room. Then my mind starting remembering all the other houseplants I had, some of which I got shortly after I moved to Colorado ten years prior. I walked quickly away to the cheese aisle and kept telling myself, "I'M NOT GOING TO CRY IN KING SOOPERS, DANG IT!" I found some food and made it up to the register. The cashier asked me how I was doing and I said, "Fine." I'm not sure if she looked at me and figured I was about to start crying right there despite indicating otherwise.
On Friday the week of the fire, the city held a meeting to officially let each person know the status of their house. Up to that point, they oddly did not release any of the information about specific addresses to anyone, and the neighborhood remained under mandatory evacuation orders. Most of us already knew the story based on the aerial photos we had seen, though. They split us up based on the street we lived on and handed out a sheet of paper with addresses marked as DAMAGED or DESTROYED. Of course it was no surprise to me that my house was listed as destroyed.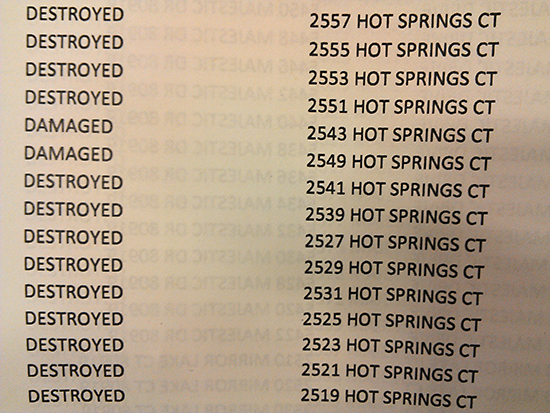 That weekend, they started letting residents in so we could survey the damage for ourselves. It's hard to describe the feeling of driving into your familiar neighborhood, where you've lived for eight years, and seeing everything practically levelled. It really looked like a massive bomb had gone off in our Parkside neighborhood. I got to my lot and it was literally just a pile of debris sitting on the foundation. Anything burnable was completely consumed. There were remains of metal tools, bed frames, sheet metal from the appliances. My bike had practically melted. I could recognize bits and pieces of things. The Corelle plates in the dishwasher were still sitting in the rack, just deformed from the heat. The structural steel I-beams were twisted and droopy from the heat.
My beautiful mature trees were completely blackened. There weren't even remains of the rose bushes to be found. I could tell that the front of the house fell onto the driveway and cracked it before burning away.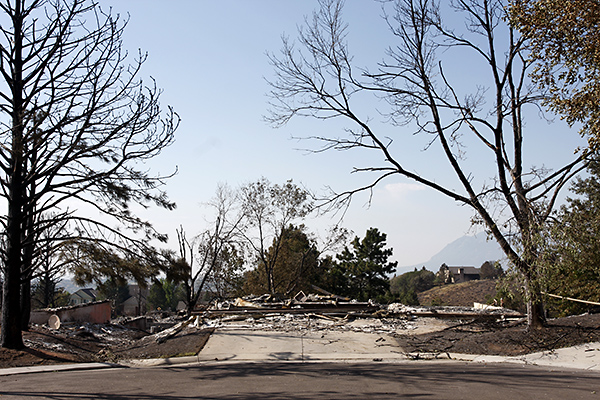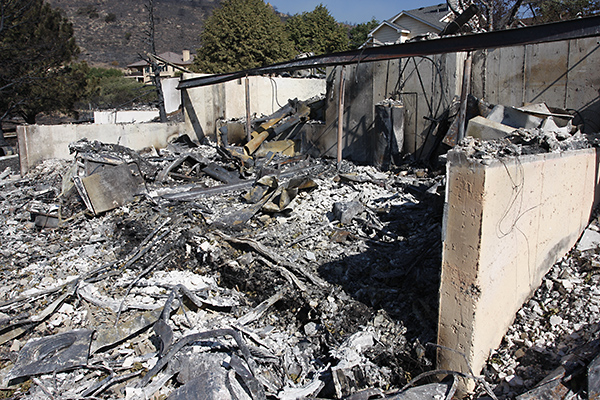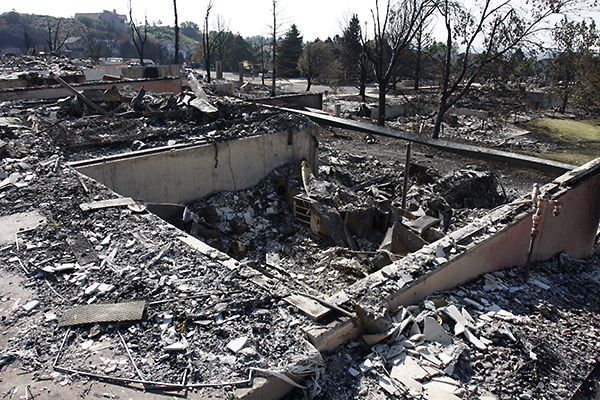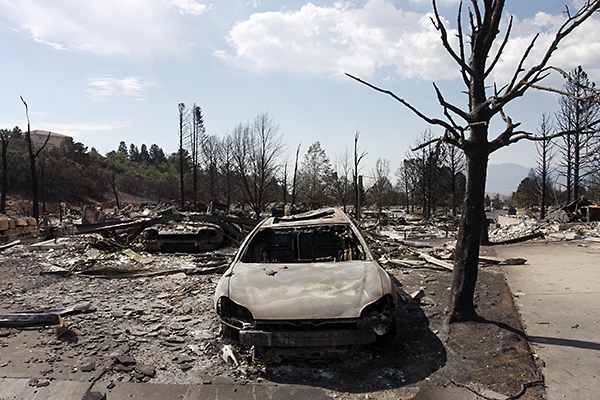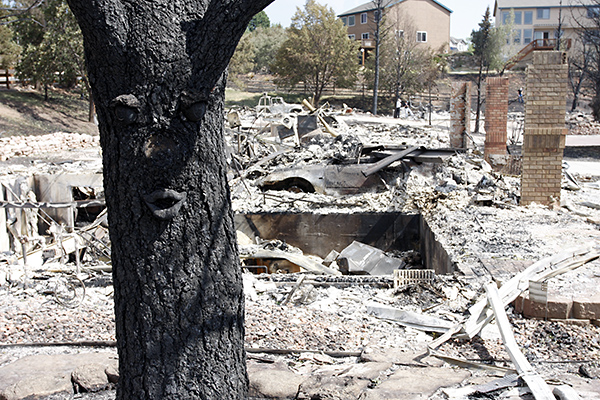 At that point, I figured I had better start looking for a place to live. Fortunately, any increase in living expenses such as needing to rent somewhere to live were completely covered in my insurance policy. This proved to be a somewhat frustrating experience, though. Technically, I could have rented a 4-bedroom standalone house with garage and be covered since that's what my house was, but as you can imagine with 370 homes just destroyed by fire, and subsequently all those people looking for somewhere to live, I wasn't going to find such a place on the west side of town. The insurance company had another company contracted to help find a place to live, but since they weren't local, I think they didn't really understand what was available and what pros and cons each area of town would have for me. They came back with a suggestion of an apartment for rent. Amazingly enough, it was in the same apartment complex I lived in before I bought my house. I didn't want to go back there. I didn't want to live in an apartment complex. I didn't want neighbors on the walls on every side of me.
I ended up finding a few promising townhomes to rent via Craigslist, but after contacting them, they were either already rented, didn't allow pets, or absolutely would not allow a lease term of less than 12 months even after I explained the situation I was in. Eventually, after living with the DeLines for two weeks, I stumbled across a recently-renovated end-unit townhome in Rockrimmon. It was half the size of my house, didn't have a garage, and was an extra 4 miles away from work, but the owners were very nice and willing to be flexible with my situation and allowed me a 6 month lease with month-by-month extension after that. My insurance company handled the deposit and got me some rental furniture and housewares to hold me over until I had a permanent place to live again.
With my immediate need for temporary housing taken care of, I started considering what to do about the burned house. There are a few options in such a situation. You can rebuild in the same location with the same floor plan, rebuild with a different floor plan, buy a different house and keep or sell the lot, or build a different house somewhere else. I really liked my neighborhood and it was the perfect location for me. I decided my best option was to rebuild on my lot, but with a new floorplan.
==To be continued==