A journey of 100 miles begins with, well, an even longer journey. (Sorry, Lao Zi I had to modify your proverb a little bit...)

This past August I competed in the Leadville Trail 100 Mile Run in Leadville, Colorado. It's a beast of a race in all regards. If the distance alone isn't enough to be off-putting, the terrain and altitude make for quite a challenge.

Why in the world would someone want to take on such a task? I still don't know. I wanted to see what I was capable of, I guess is the standard answer I give.

A little background is probably in order for those that don't know me so well. Growing up, I was never really into sports in any way. That came to bite me hard once I was in college. It was a tough time for me because of the heavy course load I subjected myself to -- getting an engineering degree is never a walk in the park. By the time I graduated I was probably around 230 pounds (I'm 6'1", so while it's not terrible, I was not really healthy). It turned out that 2002 was not a good year to graduate with a technical degree. I, and most of my friends in my major, did not have jobs lined up for when we were done with school. I moved back to live with my mom and I worked at the family business trying to update their technology and do other odd jobs around the place. In all honesty, I felt a bit defeated because all the work I put into getting my degree seemed to have been wasted.

I ate a lot during that time period. I applied to more jobs than I can remember, but they rarely lead to anything. Finally, I got a job offer with a good company in Colorado Springs, Colorado. At the time I moved here, I weighed about 250 pounds.

Colorado has a very different attitude about things compared to the Midwest. If you've ever visited, you'll know that the overwhelming beauty and amazing weather make it difficult to sit still in your house for too long. Shortly after starting my new job, I would hear tales from my new co-workers about amazing trails and races they did. Did you know there was an annual marathon and half marathon that goes straight up Pikes Peak? I couldn't believe that people would even attempt such a thing at the time. The more I heard about these things, the more intrigued I got. Two of the guys at work, Keith and Paul, told me stories of "ultra-marathons." This was a completely new and foreign concept to me. They told me of their regular 50- and 100-mile races out in the mountains. I couldn't believe it -- these guys were right around my parents' ages and doing crazy things like this.

What motivated my sorry butt to start running was an invitation to join a friendly bet that my co-workers did every year. They'd wager a certain amount of money and have to lose a certain percentage of body weight, and the winners would split the pot. I decided running would be an excellent way to drop a few pounds.

Little did I know what I was getting into. I started very small. I used the Couch-to-5k training program from CoolRunning. It was painful, to say the least. I started running around in the neighborhood near the apartment I lived in at the time. My shins hurt, my feet hurt, my lungs burned, my throat was raw -- and that was after doing just a couple of the very short intervals at the start of the program. I still don't know how I managed summon the will power to stick with the program, but the pounds melting off after a few weeks and the thought of winning that weight loss bet were very good motivators.

Eventually I hit a point where I could do a few miles nonstop, very slowly, without wanting to die. I kept up the short runs and did a lot of hikes up in the mountains. I decided that next year I would do the half marathon up Pikes Peak as my first race. Why not start my running career with a 13.32 mile race that climbs 7,815 feet and ends at an altitude of 14,410 feet? Go big or go home, right? Somehow I managed to finish the race and smash my predicted time. It took me 3 hours and 35 minutes. That might sound pretty slow if you're used to flatland half-marathons, but it put me in the top 15% of finishers.

I was hooked. I was seriously on the verge of tears when I finished that first race because I was so happy I could do it. (The hypoxia from the high altitude might have contributed to the euphoric feelings.)

I continued doing the Pikes Peak Ascent every year, along with some less challenging races around town. Eventually one of my ultra-running coworker decided that it would be a good idea for me to run a full marathon. There was one coming up in two weeks, after all, he told me. I hadn't planned to run a marathon or really even trained for it. But it was two weeks after the Ascent, and I guess I was in as good of shape as ever then. So in September 2007 I ran the American Discovery Trail Marathon and finished in 3:55. Well, that was surprising and fulfilling!

Where do you go from there? I had started running occasionally with my co-worker's running club, Team CRUD (Coloradans Running Ultra Distances). I loved hearing the stories about the amazing ultra races they had done over the years. I was out on a 22-mile training run with them in 2009 and Keith mentioned that there was a 50k (31 mile) trail race coming up in a couple of weeks. He said I should do it, since I can probably handle it. Well, I couldn't argue with that logic. So I ran my first ultra-marathon, the Golden Gate Dirty Thirty, in June, 2009.

The 50k race went fairly well, so later that week I signed up for the Leadville Marathon and the Leadville Silver Rush 50 mile race. I did the 50 mile race in 9:54. That was surprising. I couldn't even put into words the feeling of accomplishment (and fatigue) that I felt when I finished that race. I was still running strong and passing a lot of people near the end. I knew I could do more.

A few weeks later, I ran 27 miles of the Leadville 100 as a pace runner for Keith. I got to see first hand how gnarly the course was and the excitement of the event. I knew I had to try it myself.

I thought I would sign up for the Leadville 100 to race it in 2010, but near the end of 2009 I herniated a disk in my back and was unable to run for almost 6 months. I thought maybe it wasn't a good year to attempt it after that ordeal. So 2011 would have to be the year of the 100.

I signed up for the race in early January 2011. This turned out to be very fortunate as the race filled completely a couple weeks after that. My dad sponsored the $250 entry fee as my Christmas present - at the risk of me cursing his name for letting me torture myself this way.

I had been running all winter (albeit relatively shorter distances), but I picked up my training in earnest when the weather started to turn nice in late February. At first I was doing 7-10 mile runs a couple days a week after work and started working in long runs on Saturdays and long bike rides on Sundays. Monday and Thursday nights were for hockey league (excellent interval training!).

In late March, I added a new dimension to my workouts and started going to CrossFit classes on Mondays, Wednesdays, and Fridays before work.

As the weeks progressed, I started building more and more miles into my long runs. For my 31st birthday in April, I ran 31 miles. Eventually, I added a Thursday morning CrossFit Endurance class to the schedule.

By the end of May, I did a long run of 44 miles, which consisted of starting from my house, running to the top of Pikes Peak, and running back home. It took me about 11 hours and had just over 10,100 feet of elevation gain throughout the course.

I ran a trail marathon in Pagosa Springs in June, and the Leadville Silver Rush 50-miler in July. I was feeling good and remained fairly injury-free. I was still very, very nervous about the impending 100 mile run, though.

By the end of July I was doing CrossFit workouts every morning Monday through Friday, long runs on Saturday, shorter runs once or twice after work, and playing hockey twice a week. I eased back on the biking a bit because it was starting to irritate my back a little. Every week or two, I made sure to take a day off and do nothing.

The 100 miler was set to start on August 20th. My taper was about two weeks long. I cut my workouts in half pretty much two weeks prior, and did almost nothing except my hockey games the week leading up to the race.

I headed up to Leadville on August 19th for the mandatory medical check in and pre-race briefing. Some university was doing a study of how genetics affect performance at high altitude so I agreed to have my spit taken for analysis to be compared with my performance in the race. I wonder if they found anything interesting.

My friend Scott rode up with me. He would be one of my four crew/pacer team members. There are a lot of logistics that go into preparing for and competing in a race of this length. I was extremely fortunate to have four friends that were willing to give up their weekend to devote to helping me.

I was very nervous that day before the race. I had rented a small cabin in Buena Vista and attempted to get some sleep that afternoon, but wasn't very successful. The race was set to start at 4AM the next morning, and I knew I wouldn't be getting much sleep overnight either. I managed to eat enough pasta, bread, fruit, and milk to hopefully get me at least a good start on the race the next day.

My alarm went off at 2:30AM. I took a quick shower, ate some bread and Sun Chips (don't laugh, they're great before long races!), and made sure I had everything I'd need loaded into the car. I drove up to Leadville, got out at the starting line, and Scott took the car back to the cabin since he wouldn't be meeting me until later.

A couple of visits to the port-a-potty, and I was as ready to go as I was ever going to be. It was dark, but not too cold. It was August, but the start line is also at about 10,000 feet of elevation. I had a hat, gloves, and a long-sleeve shirt on, but was wearing shorts. I wore a Nathan 2-liter hydration pack that had my sunglasses stowed for later and three packets of Honey Stinger Cherry Blossom Energy Chews. I used a hand-held flashlight since the high angle of a headlamp flattens out features in the trail, and the last thing I wanted to do was trip over an errant rock or tree root.

At precisely 4:00AM the starting gun was fired. We started off in the center of the town of Leadville, taking one of the streets out to the edge of town where it meets the forest. The first mile and a half was paved street surface. Eventually, this gave way to a gravel road. There was very heavy rainfall the night before so this road was strewn with puddles and very muddy. Most of the crowd of 600 starters was still together at this point, but the real competitors were really starting to pull away.

It's quite an experience being out there in the darkness with so many runners. I ran with one guy for a few minutes when he started talking to me. It was his first 100-miler also, another Coloradoan. He had to stop to take a pee in the trees eventually, so I kept going ahead.

This was my first time on this part of the course, and I was a bit disoriented by the darkness and not knowing what to expect. But I just rolled with the terrain. I ran fast on the downhills, moderately on the flat parts, and slow on the uphills. Anywhere the uphills were even close to steep, I would walk. This is a pretty standard strategy for ultra trail races, and might be pretty unexpected for someone that is used to doing flat road races. I knew that if I wanted to have enough energy in the tank for the full 100 miles, I'd need to pace myself very conservatively. I kept my eye on my heart rate monitor and never let it go above 145BPM.

Eventually the trail ends up along the shore of Turquoise Lake. This lake turns out to be much larger than it appears on the map. At this point, the trail is strictly single-file. I didn't have a problem with this since the people I was around were running pretty close to my ideal pace for the terrain -- some flat, but lots of fairly short ups and downs. The only really annoying part was that the people ahead of me were yelling out "ROCK" or "ROOT" or "PUDDLE" any time one was coming up. Needless to say, this became annoying very quickly since there is one of those obstacles approximately every 2 feet on this part of the trail. I'd never encountered this before in a trail race.

About 13.5 miles into the race is the first aid station, known as May Queen. While rolling through here, I stopped briefly to have a couple of boiled potato quarters with salt and a small cup of Coke. Heading out from here is where the first real climb starts. When things started getting steep, I started my power hike. I can pass a lot of runners with my uphill power hike speed, somehow. It's my strength in these kinds of races.

After a while I passed a sign that said "MILE 20, 80 MILES TO GO." I actually seriously thought to myself, "oh, that's not bad at all!" One example of a sign that you need mental help, apparently. The long climb through the forest eventually meets up with a Jeep road and levels out a little bit. Evenutally, we reached the top of Hagerman Pass, which is just shy of 12,000 feet. From here, there's a lot of downhill, which I could fly down. I was passing a lot of people. All those runs up, and subsequently back down, Pikes Peak were paying off. The steepest part of this descent is known as Powerline due to the high voltage power transmission lines that the trail follows.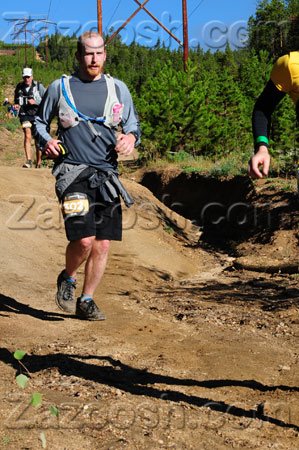 At the bottom of the Powerline hill, the race course met with a paved road, which we followed for a bit until the next aid station at mile 23.5 at the Leadville National Fish Hatchery. Right before here, I saw Scott waiting for me. I had to pass through the aid station and check in. I filled my water and headed over to where Scott had my car parked. I managed to eat a quarter of a turkey and cheese sandwich, part of a bottle of Coke, and refilled my hydration pack. I replaced one of my empty energy chew packs with a full one, re-applied my sunscreen and took off again.

This next part of the race is probably my least favorite. You'd think this would be a favorite portion of many since it's along a flat, paved road for a couple of miles before transitioning to a flat gravel road for another mile. The pavement is hard on your legs and the traffic along the road is annoying. Also, the sun is coming out bright and strong at this point in the race and there are no trees around to provide shade.

At the 26.2 mile marker, there was a series of two signs planted in the ground. The first one read, "Any idiot can run a marathon..." A few feet later, the second sign read, "But it takes a special kind of idiot to run an ultra-marathon!" Indeed, it does, my friends.

I was still feeling very good at this point in the race, no aches, no pains, a decent amount of energy. It was starting to get warm, so I made sure to drink plenty and take some Salt Stick electrolyte caplets every 45 minutes or so. I sweat a lot, so I have to be extra careful when out for a long runs.

Eventually the flat portion of the trail gives way to a steady uphill climb. At mile 29.1 is the Halfpipe aid station. I made sure to have a small cup of coke and small handfuls of other stuff they had on offer (pretzels, chips, potatoes). One of the volunteers filled my water pack and I took off again.

The portion of the race from Pipeline to the next aid station was probably my favorite part of the trail in terms of scenery. You could no longer see the highway or the town of Leadville. It was just pine forest with aspen stands intertwined throughout. There's an amazing portion where the trail is going downhill and there are some of the tallest and straightest aspens I've ever seen growing densely-packed along both sides of the trail. It was inspirational -- one of those moments where you remember why you're out there and just think to yourself, "now this is Colorado."

Twin Lakes is a tiny little town and host of the next aid station at mile 39.5. There's a steep climb down on the gravelly trail where there are hordes of spectators cheering the racers on. I remembered when I was helping my co-worker here two years prior that a number of runners had slipped and fell on this part, right in front of everyone. I did my best to keep my footing and managed to make it down the hill with my pride intact.

Scott was waiting for me here along with the next part of my crew, Rich and Jody. Once I checked in and left the aid station, I felt like royalty at this point. My crew had prepared a folding chair for me because I told them I'd want to change my socks at this point. So I got to sit down, munch on a turkey sandwich, some chips, and sip from a Coke while they undid my shoes and helped me get my new socks on. I could get used to that! They said I looked surprisingly good for having gone nearly 40 miles already. I'm not sure if I believe that or not, I was feeling pretty good, but could tell I was starting to get a bit worn down. Rich took my water to be refilled and I replenished my electrolyte supply before heading off again.

The next leg of the race starts out on some nice flat, grassy terrain. It's a nice reprieve for the legs and feet compared to the hard trail and road surfaces prior to here. Soon enough, though the trail goes through many large areas of standing water, probably about a foot deep and as much as 15 feet across in some places. The cold mountain water feels very soothing on your feet at this point. Eventually, there's a river crossing with water rushing by pretty quickly. The water was about knee-deep this year.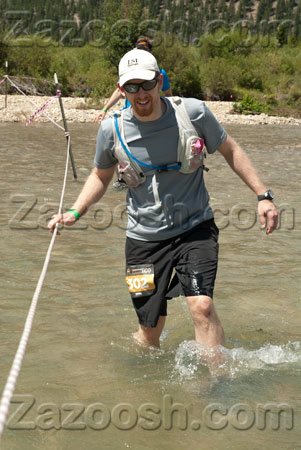 Once I was over the river, the ascent up to the summit of Hope Pass began. The climb from Twin Lakes to Hope Pass is about 3,300 feet of elevation gain (The summit is at 12,500 feet and is the highest point in the race). I felt pretty good on this climb. There were some steep areas, but I kept a brisk hiking pace all the way up. About halfway up, I saw the front-runners for the race heading back.

There's a very interesting aid station just before you reach the summit of Hope Pass. It's at mile 45, and unreachable by roads, so the aid station volunteers pack everything in by llama. It's a quite a scene -- you're up above treeline with nothing but rocks, short alpine plants, and llamas lazing about all over the place. I stopped here briefly and grabbed a handful of various snacks before continuing on. The summit of the pass is visible from the aid station, so I had a lot of motivation to keep moving and get going on the downhill part.


Some more of the faster runners pass me as they're on the way back, and I start the steep descent down the south side of Hope Pass. The terrain on this side is way more challenging on the way I just came up. But I've trained a lot on steep, loose trails, and I'm flying down and passing a lot of people along the way. I have to slow and pull to the side occasionally to let the uphill runners that are returning pass by. Near the top I see one of the other Team CRUD runners heading back, along with the caretaker of Barr Camp (the outpost on the trail halfway up Pikes Peak). We shout words of encouragement to each other and keep on moving. Near the bottom, the trail is getting ridiculously steep. I know this won't bode well for heading back up it once I get to the turn-around point. Just before the trail levels out, I see one of my co-workers heading back up.

Soon, I found myself running on a gravel forest road. This is unfortunately the same road that the crew and pacers are using to get to the aid station at the turn around point. It's quite a mess with the two-way traffic of both runners and drivers, but somehow we all muddled through it. I saw my two other co-workers, Keith and Paul, that helped get me started running, and they're happy to see that I'm still going and not too far behind them. I saw Keith's wife drive by and she gave me a high-five out the window for encouragement.

I came around the last bend in the road and could see the halfway point aid station near the tiny ghost town of Winfield. I saw Rich and Jody ready to greet me, and headed through the checkpoint. Here there was a medical checkpoint. They take your weight and make sure you look good enough to continue. I was down about 5 pounds from the previous day, but well within the limits they recommend, so I got to continue. Jody grabbed me some ramen noodles and I had some Coke and chips. I let myself sit down for a few minutes.

Starting from the turn around point at the 50 mile mark here, runners are allowed to have a pace runner go with them. We planned for Rich to run with me from here back to the Twin Lakes aid station on the other side of Hope Pass. The pacer's job is to keep the runner motivated, make sure they're eating and drinking enough, and just generally keep them company out on the trail. Soon, Rich was ready to go and so was I.

Remember how I mentioned how steep this side of Hope Pass was? It was quite a challenge to get back up it from this side. Even without 50 miles already on your feet it would be a difficult hike. Rich and I kept going at a somewhat slow, but fairly steady pace. We ended up following another runner and her pacer for the top half of it. Oddly enough, we learned that the runner had family in the Norwegian town that Rich and Jody were going to visit the next week.

All the way back up Hope Pass, we could see clouds rolling in. I was thankful for the reprieve from the strong sun, but a little worried about the possibility of hail and lightning. Fortunately the weather held up pretty nicely the whole way. There was a little bit of wind and a small amount of sleet, but nothing I could complain about.

We reached the summit of Hope Pass and Rich was handling the altitude with no problems, and I was feeling pretty decent considering what I'd been through so far. We ran pretty quickly down into the Hope Pass aid station. I grabbed another small cup of ramen and a coke while Rich topped off my water.

I headed out of the aid station a little slow at first. I wanted to make sure the food and liquid that I just took in were sitting okay before taking off down the hill. Soon enough, though, we were flying down the hill. I love this kind of trail - it is mostly a bed of soft pine needles, though it's narrow with tall trees all along it. I felt good about my time because we could still see people coming up the trail from the other direction. We were most of the way down to the flat area when it started to get dark enough to bring out the flashlight again.

We got to cross the river and other water puddles and run through the meadow in the dark. Rich radioed ahead to Jody to let her know that we area almost to the aid station and to let them know what I'd want when we got there.

Soon enough, we arrived at the Twin Lakes aid station (60.5 miles) once more. Jody and Scott were there along with Rob. At this point I changed my socks and shoes since they were plenty soaked and rock-filled from all the water crossings, and I put a blister pad over a small hot spot on my heel.

Once I was ready to go, Rich traded off pacer duties with Jody and we headed into the forest. Right out of this aid station is a long steep climb, so we walked steadily, but fairly quickly. About a mile in, the race course leaves the gravel forest road and joins a trail. It is pretty well-marked, but I made sure to pay attention to this turn-off on my outbound leg. We saw the turn-off without and problems, but noticed that the guy ahead of us was still going up the road, so we both started yelling that he needed to come back. He seemed pretty grateful that we were there to help him.

I was able to run a lot of the flat and downhill parts of the next section, but as we neared the next aid station, I could feel something wasn't quite right in my stomach, so we slowed down and walked for a little bit to avoid aggravating things worse. Eventually we made it to the Halfpipe aid station at mile 70.9. I excused myself to sit on the port-a-potty for a few minutes while Jody filled my water pack. I felt a bit of relief at that point, but decided to take it easy at this aid station. I sat down while Jody brought me various things from the "buffet" of running foods.

This aid station was the first one that started to look like a war zone. There was a lady sitting near us that was trembling, and a lot of people that looked like they were having trouble moving or even eating or drinking. I started to feel a little better about my situation after seeing that. I didn't realize we were there so long, but Jody later mentioned that we had been at that aid station for over 20 minutes. That turned out to be okay since I wasn't getting dangerously close to any of the cut-off times at that point, and I felt the short break might have been just what got my digestion running normally again.

Again, we took off slowly out the aid station to make sure the food and drink settled quietly, and eventually the trail flattened out again. We soon came up to the next crew-point at mile 73, where Rich met us and I had a swig of Coke and some other food that I can't remember any more. The next portion of the trail was the long, flat road that I'm not such a big fan of. It was nice to have a pace runner with me to keep my mind off of how much I was hating that portion. It was nearing midnight at this point and the racers and crew had thinned out considerably. It was a lot quieter coming back, and pretty serene since it was so dark out there.

At mile 76.5, we had returned to the Leadville Fish Hatchery aid station. Scott, Rich, and Rob were waiting for us there. At this point, Rich would turn crew duty back over to Scott, and Jody would cede her pacer duties to Rob. Both of them would be helping me out from there until the end of the race.

I had some food, sat for a few minutes, and made sure all my supplies were good. Rob and I took off; the first bit was some easy rolling hills on a paved road, but soon, we'd turn off and have to climb back up the Powerline hill. We kept a fast power-hike pace all the way up. Though I was starting to feel a bit fatigued once we neared the summit of Hagerman pass again. The trail started going slightly downhill, but I was only able to run small portions of it, while walking the rest. Rob managed to keep me entertained with some corny jokes, though my tiredness at that time may have made it seem like I didn't fully appreciate them.

Soon the course took a turn off the road and back onto the steep trail leading down to the May Queen aid station, and I was feeling pretty good at that point. I took off flying down the steep parts and had some fun there, and I was surprised I could move my legs and feet quickly enough to jump over and around all the rocks and roots. The trail continued through the forest and downhill for quite a while. Soon enough, though we joined back onto the road that goes around Turquoise Lake and were rolling into the May Queen aid station at mile 86.5. We had a little bit of trouble finding Scott here, and it turned out that he thinks he drove into an area where he wasn't supposed to be driving, but we eventually found him. I let myself sit for just a few minutes, but as soon as I got up my legs were incredibly stiff. I had no choice, though, and just kept moving. My muscles loosened up eventually.

I had slowed down quite a bit from this point. Most of the rest of the race I would end up walking. There were a few areas where I found some strength to run for a short bit, but, as you could probably imagine, my legs were pretty much drained at this point. My goal was just to keep moving. We had plenty of time to spare as long as I didn't have to stop or slow down significantly. With 7 miles remaining in the race, we met Scott at the last crew point, where I traded my warm hat for a baseball cap and put on my sunglasses since the sun had just risen. This was the second sunrise I had seen throughout this race. Here was the first point where I was actually fairly certain I was going to finish the race.

Normally 7 miles isn't such a big deal for me, but things become a little more challenging once you have 93 miles on your legs. I kept going though, there was no option now. One of the things that kept going through my head was questioning the sanity of my co-workers that do this repeatedly almost every year. Why? I was so tired and in so much pain at that point. It's hard to describe the feeling, though. There were times throughout the second half of the race where I just felt like I was outside of my body, observing someone else that was doing this race. I know that probably doesn't make any sense, but that was exactly the feeling I had.

Rob kept me encouraged for those last few miles. He kept telling me that "it'll be over before you know it!" Well, that was a total lie, but I was glad to have someone out there with me. I was determined to finish and kept my walking pace fairly strong. Eventually I had to stop and pee with just less than 2 miles go go. Rob told me later that I looked visibly agitated that I had to stop at that point. That was also the first point where I noticed the chafing that all that movement had caused. Ouch.

Soon enough, though, we hit the edge of Leadville. I knew there was only a couple more small hills to trudge up and down and I'd be there. As I neared the finish line there were more and more people cheering me on. I started to feel good and my mood was instantly lifted on that last stretch of road to the finish line.

I did it. I crossed. It took me just over 29 hours, but I was done! I still have trouble believing that it was possible and that people do this all the time. It seems so surreal. The amazing thing is that I was 12 hours behind the winner of the race. I have no idea how anyone could keep such a fast pace over that distance and that kind of terrain. The finish rate for this year turned out to be about 59% of those that started the race, and less than half of those that signed up for it. That was an unusually high finishing rate, actually. Most likely this was due to the very cooperative weather.

After the race it was hard for me to move around and I was pretty tired, but I made it back home thanks to Scott's help, and even went to work the next day. I felt surprisingly good that week. My left ankle was a little bit sore, and I was out of breath doing simple things like going up the steps at work, but I felt great overall.

Recently the sign-up for next year's race opened. I don't think I'll be doing it.